ESE MATERIAL LLAMADO HORMIGON (THAT MATERIAL CALLED CONCRETE, available only in Spanish) 2nd Edition
This is a piece of writing that analyzes Concrete Technology in depth, an essential tool for Students, Constructors, Professionals and Lecturers.
For further information, click on the following link to access the Table of Contents (in Spanish):
For more information about this book, please contact aath@aath.org.ar
SERIE HORMIGONES ESPECIALES.
Author and Director of the series, Dr. Eng. Raúl Zerbino.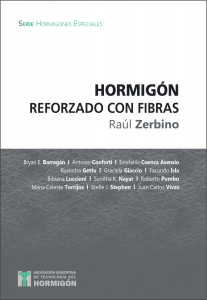 HORMIGONES REFORZADOS CON FIBRA (FIBRE REINFORCED CONCRETE, currently unavailable), Author: Raúl L. Zerbino,
Co-author: Bryan E. Barragán, Antonio Conforti, Estefanía Cuenca Asensio, Ravindra Gettu, Graciela Giaccio, Facundo Isla, Bibiana Luccioni, Sunitha K. Nayar, Roberto Pombo, María Celeste Torrijos, Stefie J. Stephen, Juan Carlos Vivas.
Fibre Reinforced Concrete (HRF) constitutes a high-performance concrete where the incorporation of short fibres dispersed in its cementitious matrix gives the material remarkable properties such as an important residual resistance that controls the formation and propagation of cracks. In this way the concrete increases its toughness, but also improves its service life. This book aims to update the state of knowledge on the subject and, in this way, provide a tool to promote the best use of the huge possibilities offered by the use of fibres in concrete. It is intended for different professionals and actors who participate in the design and construction of concrete works, with emphasis on their mechanical characterization, structural design and applications.
DURABILIDAD DEL HORMIGÓN ESTRUCTURAL (DURABILITY OF STRUCTURAL CONCRETE, currently unavailable), Ed. Edgardo F. Irassar